EVENTS IN NYC THAT ARE WORTH YOUR WHILE - TUES, 6/16Scion Party Tonite
@
Plan B
w/
Zomby, Blu Jemz, Eleven, Danny Daze, & Haul
339 E. 10th St, New York, NY
11pm - 4am
(just like the hot lil' number I rented for WMC...)
EVENTS IN NYC THAT ARE WORTH YOUR WHILE - WEDS, 6/17POPPIN' BOTTLES GETTIN PREGNANT @ HAPPY ENDINGS, Hosted by
OJAY MORGAN
HAPPY ENDINGS (L.E.S.)
302 Broome St. @ Eldridge
DJ's JAZZY JEFF, AM, and A-TRAK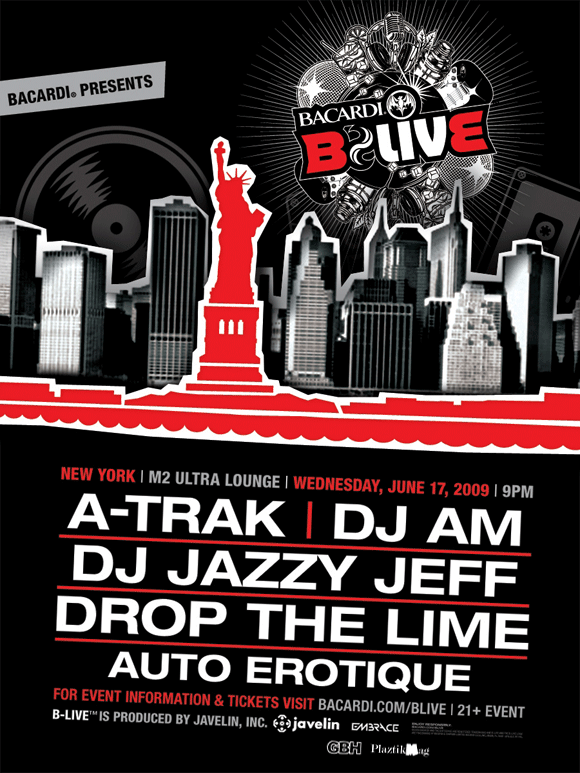 I have a feeling this one's gonna be a banger, you gotta pay, but if the list is still open, try RSVP'ing at
event@gbh.tv
, and let the door know you are on the GBH list.
EVENTS IN NYC THAT ARE WORTH YOUR WHILE - THURS, 6/18
Post Soul Searing Sounds of Musiq Soulchild and Anthony Hamliton Show @ The Theatre @ MSG, I'm hittin' up some of these partays...
Yours Truly Brand Fashion Show
From the desk of Jenny Truly:"What's up my people of this strange summer...

Another delivery just came in and it's so fresh. I'm really excited since it's my first cut and sew pieces, custom designed by Yours Truly. This Thursday night, you are invited to come to our fashion show and release party for a sneak peek of these pieces. Don't miss this night of models, bottles, flashing lights, and sites. Come chill with us & get your YOURS TRULY FIX.

June 18, 2009
Club One
1 Little West 12th St. NYC
No Cover
Doors @ 10:30PM
Fashion Show starts at 12am
RSVP is not required, but highly recommended: events@yourstrulybrand.com
Peep the flier below...

Photos of new collection as well as actual drop coming soon...

Yours Truly,

Jenny"ROXY COTTONTAIL, HOT OFF HER EUROPEAN TOUR PERFORMS!
DROP IT LOW w. SHYHEIM of WU-TANG CLAN @ 205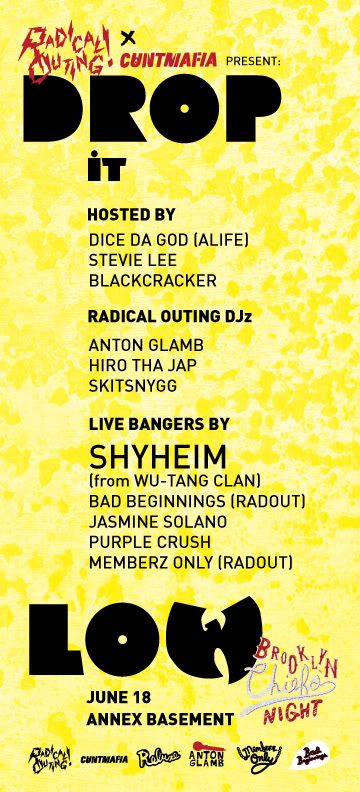 205 Chrystie Street btwn Stanton and Rivington (L.E.S)
and also @ 205, Downstairs,
DANCECLASS w/ PRINCE TERRENCE
JASMINE SOLANO DOIN' HER THING THING @ SANTO'S PARTY HOUSE
Santo's Party House
96 Lafayette Street
The Bloc Group and Dos Equis Present QUESTLOVE
(always a good time when he's in the house)