GET YOUR MIND OUTTA THE GUTTER, and see what Gemini has in store for you this month Luvies!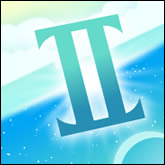 May 20 - June 20
Ruled by Mercury -- the wing-footed messenger god -- airy Gemini is the connector and communicator of the zodiac, circulating ideas and information.
What does the Sun in Gemini mean for your zodiac sign?
by
Emily Trinkaus
Ruled by Mercury -- the wing-footed messenger god -- airy Gemini is the connector and communicator of the zodiac, circulating ideas and information.
The Sun's visit to the sign of the Twins inspires your curiosity about the people and places around you, and opens your mind to new perspectives and possibilities. The challenge is to extend yourself without losing focus, scattering your energy and overtaxing your mind.
Since Mercury will be Retrograde until May 30
, operating at the characteristically speedy Gemini pace can result in mistakes and miscommunications. Move deliberately, double-check the details, and wait until June to launch a new project or commit to a long-term plan.
A more dramatic highlight during this Gemini season is the rare conjunction of Jupiter, Chiron and Neptune in Aquarius.
Exact for the first time in late May and early June -- and again in July and December -- this alignment offers the potential for deep transformation. Addictive and other self-sabotaging patterns may come into awareness, ready to be healed.
On June 16-17 the Gemini Sun energizes the super-conjunction, an auspicious time for seeking out innovative approaches to freeing yourself from old wounds. The more you open up to friends and peers about your inner reality, the more likely it is that you will get the support you need.
Find out what the Gemini Sun and Aquarius Super-Conjunction mean for your zodiac sign:Aries (March 21 - April 19)
In your 3rd House of Learning, the Sun stirs your desire to explore a new subject or acquire a new skill. Take time to define your priorities and consider what information you really need to move toward your long-term goals. The Super-Conjunction opens the door to attracting people who can help you realize your dreams -- get involved with a community project you feel excited about to activate these opportunities.
Taurus (April 20 - May 20)
The Sun in your 2nd House of Finances invites you to explore new sources of income and focus on building your base of security. Seek out different perspectives on money management and prosperity consciousness by talking with friends, taking a class or reading a book or blog. The Aquarius alignment offers opportunities for taking your career in a more spiritual, creative or healing direction -- take the risk of following your inspiration.
Gemini (May 21 - June 20)
Happy Birthday, Gemini! The return of the Sun to your 1st House of Self represents a time of renewal and new beginnings. Pay attention to what inspires you, and commit to freeing up more space for pursuing your passions. While Mercury is in reverse, reevaluate your past and reconsider who you want to be. The Super-Conjunction energizes your intuition -- consult your feelings and inner wisdom rather than trying to figure it all out.
Cancer (June 21 - July 22)
The Sun slips into your 12th House of Endings, marking the close of your personal yearly cycle -- a time for resting, retreating and regenerating. Take time to reflect on what you've created, and pay attention to your dreams for clues about the new vision that wants to come forward. The Aquarius alignment assists you to experience a deeper level of intimacy and heal any blocks to receiving love and support from others.
Leo (July 23 - August 22)
In your 11th House of Groups and Friends, the Gemini Sun stimulates your social life and signifies an auspicious time for networking. Reaching out and connecting with your community feeds your vitality and attracts support for reaching your goals. The Super-Conjunction brings healing opportunities in the realm of relationships -- take steps to release old love-related wounds and open your heart to a new approach to partnership.
Virgo (August 23 - September 22)
The Sun in your 10th House of Career calls for taking concrete steps toward reaching your goals. Projects that involve marketing, sales, writing and teaching are especially favored. The Aquarius line-up falls in your House of Health, encouraging experimentation with innovative, spiritual, and subtle approaches to healing. Improving your daily self-care routines provides essential support for achieving worldly ambitions.
Libra (September 23 - October 22)
In your 9th House of Expansion, the Sun stirs up your desire to step outside your comfort zone and explore new territory. Unplug from the busyness of daily life to travel, meditate, and get a higher perspective on ordinary reality. The Super-Conjunction helps you identify what you need to release to free up more space for fun, romance and creative pursuits. Take the risk of making your happiness a top priority.
Scorpio (October 23 - November 21)
The Sun shines on your 8th House of Intimacy, inspiring you to connect more deeply and improve communications with a significant other. Be willing to share more of your inner world with your partner, and make a point of inquiring about their needs and feelings. With the Aquarius alignment in your House of Foundations, take steps to free yourself from old feelings of insecurity and open to new sources of support.
Sagittarius (November 22 - December 21)
The Sun in your 7th House of Partnership enlivens your significant relationships and suggests a favorable period for cooperation, collaboration and negotiation. If you're single and looking, wait until Mercury is moving forward before making your move. The Super-Conjunction offers support for freeing your mind of self-sabotaging thoughts and beliefs -- mentally-focused forms of healing are especially effective now.
Capricorn (December 22 - January 19)
Lighting up your 6th House of Everyday Routines, the Gemini Sun inspires new ideas about how to become more efficient, effective and organized in your daily life. This is also a favorable time for seeking out different perspectives on health care and making changes in diet and exercise that improve your well-being. The Aquarius alignment helps you heal and release feelings of unworthiness and open to greater abundance.
Aquarius (January 20 - February 18)
The Sun sets off sparks in your 5th House of Romance -- a time for revitalizing your relationship by demonstrating your love. If you're seeking a new partner, make a point of going out to social events and participating in fun activities to enhance the potential for meeting someone special. The Super-Conjunction in your own sign invites you to let go of old beliefs about who you are and step into a more liberating version of yourself.
Pisces (February 19 - March 20)
In your 4th House of Foundations, the Sun draws you inward to focus attention on your home, family and emotional realm. Get in touch with what you need to feel secure and supported, and communicate your needs to your family, housemates and close friends. The Aquarius line-up brings awareness to unconscious habits that prevent you from moving forward -- resist the urge to hide your wounds and instead seek support for healing.