And to All the Lovely 'Lil Fish Out There...

PISCES February 18 - March 20

The Ocean-Dweller Brings Clarity
By
Emily Trinkaus
The Sun's entry into Pisces, the last sign of the zodiac, signifies the beginning of the end. It's time to complete what you started last spring, so you can start a new cycle at the Spring Equinox next month. This is a time to dream, rest, heal, let go and surrender to something greater than your individual self.
Pisces is symbolized by two fish swimming in opposite directions. Spirit and matter, bliss and suffering, paradise and prison are some of the co-existing paradoxes inherent in this sign. The boundary between waking life and the world of dreams dissolves, and you confront the illusory nature of reality. Find out where you're being called to dissolve, let go, complete a cycle and surrender by looking up your zodiac sign below.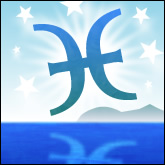 To Find Out How Sun In Pisces Affects You Individual Sign, Click Below:
http://www.tarot.com/articles/astrology/sun-pisces-zodiac-sign